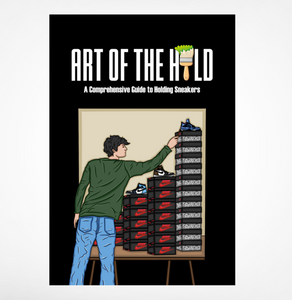 This book covers everything you need to know about making money holding and reselling shoes - without any of the headache.
No more crazy expenses, hours setting up bots, or even waiting in lines on release day.
You will learn how to effectively purchase and sell sneakers all while securing the largest profit margin.
Everything you will need to be successful in doing so is provided, and you will be ready to start making money right away.
We are proud to say that within just a few months from launch, our customers have a 100% success rate with most of them making their money back and more after only having the book for a few hours!
Make sure to take a look at our Customer Success page and don't hesitate to ask any questions by sending a message to me on instagram.

This is the only legitimate source of Art of The Hold. I own all rights and access. If you don't purchase from me, you aren't getting the real thing. In addition, you won't be getting updated revisions or direct support from the author, @sneakerinvest.
BE FAST
This Sale Will Only Last For The Next 2 Hours